Sensei Jessy Ferguson –Sandan –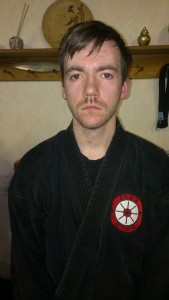 I've always been fascinated with martial arts since I could remember. I can remember begging a childhood friend to teach me what he had learned at his Tae Kwon Do class and filling our VHS library with ninja and kung fu movies. My brain has always been dominantly engulfed in art from a very young age and martial arts seemed to fit the criteria. My father tried putting me in sports and boy scouts as a child with no appeal. By the time I convinced my mother to take me to find a karate dojo, I was 13. I was lucky enough to find Sensei Smith on my first try at the local Ymca. I couldn't find a reason to look further. It was everything I was hoping for and more. Karate, Iaido, Aikido and more I found in Jukido-Kai. More recently, I have found interest in the health and healing aspects to the martial arts and a great appeal for the Japanese language. I have begun additional study of TaiChi, Kung Fu, Kyudo and Yoga. I plan on opening my own school so I can teach my own students in the future.
Sensei Kwinton Mansfield – Nidan –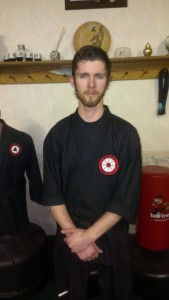 I first started training in the martial arts when I was five years old. I began in Tae Kwon Do. When I was eight, I changed areas of focus and started training under
Sensei Smith in what is now known as Jukido-Kai Sogo Budo. I earned my current rank of Shodan 1st Degree BlackBelt eleven years later. In the beginning I wanted to someday be able to defend myself and my family. I feel that I have achieved this goal and have come to realize that I have gained so much more. While at Jukido-Kai, I have learned discipline, self-discipline and the value of a hard work ethic. It has helped me build and reaffirm my morals and views on the subject on self protection pertaining to the amount of violence needed to resolve a dangerous situation. I have learned when to walk away and when to take a stand. My ultimate goal is the preservation of life rather than destroying it. I am currently studying the art of Iaido as well and hope to specialize in JuJutsu in the future too. Under Sensei Smith I have learned a great deal on the different types of martial arts in our system such as Karate, Aikido, JuJutsu and Iaido and how they work together. Weapon training of various types have also been studied. As long as I have been training under Sensei Smith, I continue to learn new information all the time.
"Anything worth having is worth fighting for!" -unknown
Sensei Michael Molchan – Shodan – Picture and Bio coming soon
Sensei Dan Iwamoto – Shodan – Picture and Bio coming soon
Assistant Instructors
Kameron Smith – Junior Black Belt